Voting in South Dakota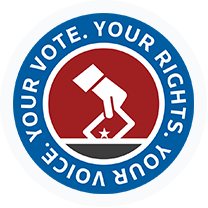 South Dakota Voting Guide
Democracies function best when their citizens participate. For many people, voting is how they participate in federal, state, and local politics. In South Dakota, voters have several options for casting their ballot. Learn the ins and outs of voting in our South Dakota voting guide.
Am I eligible to vote in South Dakota?
To be eligible to vote in South Dakota, you must be:
A citizen of the United States of America
A resident of South Dakota
18 years of age by Election Day
You are not eligible to vote in South Dakota if you:
Are a convicted felon currently serving a sentence, e.g. prison time, probation, parole
Have been judged by a legal court to be mentally incompetent
How to Register in South Dakota
There are several ways to register to vote in South Dakota. This includes registering:
In Person
You can register at several government offices, including your local County Auditor's Office and the Department of Human Services.
Online
South Dakota law does not allow email registration. You can access the voter registration form online and submit it in person or via mail.
At the DMV
Through automatic voter registration, you can register to vote as you are applying for a new or updated driver's license or permit.
By Mail
You can register by filling out a voter registration form, signing it, and submitting/mailing it to your local County Auditor.
South Dakota Voting Resources
Your vote counts. Take the time to learn how and when to vote.

Protect Your Voting Rights
Contact a qualified attorney if you suspect your rights have been violated.