Voting in Virginia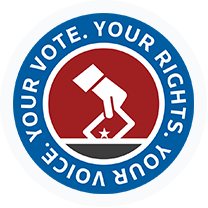 Virginia Voting Guide
Do you have questions about an upcoming election? Wondering if you need to show a photo ID in order to vote in Virginia? New to the state and unsure of how or when to register to vote? Continue reading to learn more about voter eligibility in the Commonwealth of Virginia, when to register and more.
Am I eligible to vote in Virginia?
In order to vote in Virginia, you must be:
A U.S. citizen
18 years or older
A resident of Virginia
Registered to vote (and can't be registered in other states)
Those who are unable to vote in the state of Virginia include people who've been declared mentally incompetent by the court and people who've been convicted of a felony. Convicted felons who are not serving a sentence and have restored their right to vote may vote in Virginia elections.
How to Register in Virginia
There are several ways to register to vote in Virginia. This includes registering:
By Mail
Mail your application to the Dept. of Elections.
Virginia Voting Resources
Your vote counts. Take the time to learn how and when to vote.

Protect Your Voting Rights
Contact a qualified attorney if you suspect your rights have been violated.