Woman Loses Slip and Fall Case Against Walgreens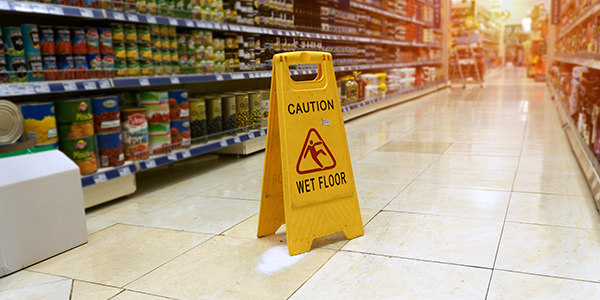 People can slip and fall for a variety of reasons, from being careless to encountering a hazard on the ground. Sometimes if people fall because there was a hazard present, they may be able to recover for their injuries. This is because businesses have a general duty of care to keep people reasonably safe while they're on the business's premises. But, in order to succeed in this type of lawsuit, a plaintiff must prove that the business was at fault.
Since one woman who fell in an Indiana Walgreens was unable to prove this, the 7th Circuit Court of Appeals affirmed a lower court's decision to grant Walgreens' motion for summary judgment.
The Reason for the Lawsuit
Robin Austin slipped and fell at a Walgreens store in Hebron, Indiana, which resulted in a broken kneecap. According to her deposition, Austin said that she didn't see anything on the floor but that her foot hit something wet so she assumed there was water on the floor.
Employees and patrons who assisted Austin after she fell testified that they didn't see any water -- or anything else -- on the floor where she fell. A friend of Austin, however, testified that she saw "water everywhere" when she arrived at the store approximately 7 minutes after the fall, and took various photos of this water. Paramedics who arrived at the scene also indicated that Austin told them that she had slipped in water.
The Reason for the Court's Decision
The U.S. District Court for the Northern District of Indiana granted Walgreens' motion for summary judgment, and the 7th Circuit Court of Appeals affirmed the decision. The appeals court held that while Walgreens owed Austin a duty to exercise reasonable care for her protection while at the store, Austin failed to prove that Walgreens knew that there was water on the floor.
For this reason, Austin didn't prove that Walgreens breached its duty of care to her. More specifically, the court held that Austin didn't present any evidence to show how long the alleged hazard was on the floor and instead relied on speculation to suggest that the alleged hazard was present for a significant amount of time before she fell. And, according to the court, "Speculation does not defeat summary judgment."
Related Resources:
You Don't Have To Solve This on Your Own – Get a Lawyer's Help
Meeting with a lawyer can help you understand your options and how to best protect your rights. Visit our attorney directory to find a lawyer near you who can help.
Or contact an attorney near you: