Injured Fan's Foul Ball Lawsuit Against Red Sox Shows Weakening of 'Baseball Rule'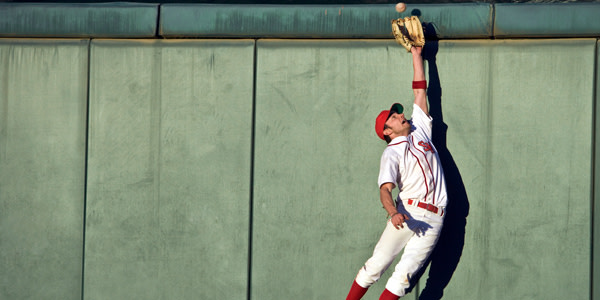 Ah, the "baseball rule," one of those little legal quirks that tends to favor Major League Baseball teams by prohibiting lawsuits from fans injured by foul balls or even flying bats. The rule is based on the idea that fans have assumed the risk of such incidents by attending games at sitting close to the action, with ticket stubs often bearing legally foreboding language like: "By attending the baseball game ("Game"), the ticket holder ("Holder") assumes all risk and danger incidental to the Game ... including, but not limited to, the danger of being injured by equipment, objects or persons entering spectator areas."
These warnings, coupled with the baseball rule, often kept injured fans out of court if they tried to hold teams or players liable for equipment or objects "entering spectator areas." But that era may be coming to a close, as one woman's lawsuit against the Red Sox is proving.
Baseball Injuries
Stephanie Taubin recently testified in Massachusetts' Suffolk Superior Court, describing the injuries she sustained when she was hit by a foul ball hit by David Ortiz at Fenway Park in 2014: "I saw him hit the ball. I heard the ball come off the bat. It came up toward the right and then came over and hit me in the left side of my face ... It just kind of knocked me ... (I) felt the bones in my face crack and felt an enormous amount of pain." Taubin said she suffered multiple facial fractures and neurological damage, and testified she had no time to react to the foul ball. "It was so insanely fast," she said. "The ball had definite spin on it."
Taubin says she was sitting in luxury boxes above home plate when she was hit. While there was once glass separating fans in that area from the field, the glass was removed as part of renovations in 2005. While Red Sox owner John Henry conceded the area behind home plate became more dangerous after the glass was removed, he also testified that ticket revenues for the renovated boxes more than doubled. Additionally, Red Sox records reveal as many as 51 people in those boxes have been hit by batted balls and required medical attention since the renovation.
Baseball Rule?
Taubin is suing the Red Sox and Henry for $9.5 million, claiming they were negligent in protecting fans. As we noted before, such a lawsuit would normally have been dismissed far before the trial stage based on the old baseball rule, courts recently have been more reluctant to apply it in certain scenarios.
In 2013 an Idaho court ruled that a fan who lost an eye from a foul ball could sue the Boise Hawks Class A baseball team for injuries. And then in 2014 a Georgia appeals court declined to apply the rule to the Atlanta Braves' motion to dismiss a lawsuit filed on behalf of a 6-year-old whose skull was shattered by a foul ball.
But, even if courts are unwilling to dismiss cases early based on the baseball rule, that doesn't mean juries won't take it into account during trial.
Related Resources:
You Don't Have To Solve This on Your Own – Get a Lawyer's Help
Meeting with a lawyer can help you understand your options and how to best protect your rights. Visit our attorney directory to find a lawyer near you who can help.
Or contact an attorney near you: