Voting in Michigan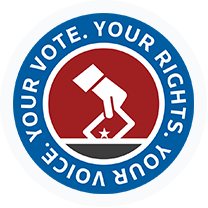 Michigan Voting Guide
Voting provides citizens with an opportunity to express their thoughts and opinions and to have their political voices heard. While the state of Michigan makes voting fairly accessible, it is much easier if you know what you need to do before heading to the polls. Learn more in this Michigan Voting Guide.
Am I eligible to vote in Michigan?
To be eligible to vote in Michigan, you must be:
A citizen of the United States of America
A citizen of Michigan and the town in which you register to vote
At least 18 years of age on election day
You cannot vote in Michigan if you are a felon, although voting rights for felons are restored once they have finished their sentence.
How to Register in Michigan
There are several ways to register to vote in Michigan. This includes registering:
In Person
Pick up a voter registration application form online or at one of several government offices.
By Mail
Download a voter registration application form, fill it out, and mail it to your local county clerk. 
Michigan Voting Resources
Your vote counts. Take the time to learn how and when to vote.

Protect Your Voting Rights
Contact a qualified attorney if you suspect your rights have been violated.