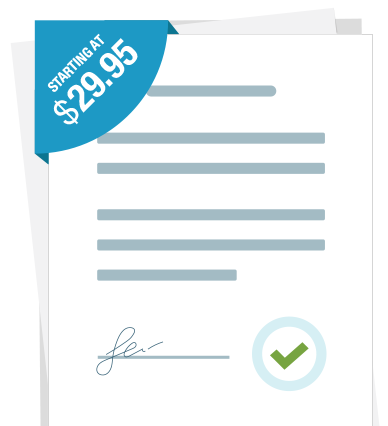 Power of Attorney Form
A power of attorney is a legal document that allows you to give someone else legal authority to make decisions about your money, property, health care, or children's care. FindLaw has partnered with US Legal to provide low-cost power of attorney forms that can be completed at your convenience. Use our guided process to customize, print, and sign your legally-valid document, fast! Get started by finding the right form for your needs.
Starting at $24.94
Do I Really Need a Power of Attorney?
A power of attorney is one of the best legal tools for giving you and your loved ones peace of mind. There are several different types of powers of attorney. Because there are many types, you can use powers of attorney to meet your specific legal needs.
You can create a durable power of attorney to give another person the authority to handle your finances or health care when you are incapacitated. It is called a durable power of attorney because it remains effective while you are incapacitated. Having someone lined up to make these decisions for you can ensure that you are cared for and prevent confusion and legal arguments between your loved ones.
You can also create a power of attorney to give someone with financial expertise the ability to negotiate a deal for you or manage specific assets for you. If you must leave your children with another adult temporarily because of work travel or military duty, a power of attorney can give them the ability to make health care and education decisions for your children.

SPECIAL DISCOUNT*
15% OFF
Power of Attorney forms you can trust
Customized to your state's laws
*No discount code needed
Find & Buy
Find and purchase the correct form for your needs.
Download & Save
Download and save the form to get started.
Complete Your Document
Fill out your document with your personal details.
Sign & Make It Legal
Sign your document according to the instructions.

Power of Attorney Laws by State
Select your state below to learn how to create a power of attorney that follows the unique laws in your state.
Next Steps:
Contact a qualified lawyer to find out your options for creating an effective power of attorney.