Voting in North Carolina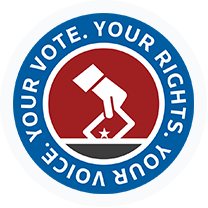 North Carolina Voting Guide
Have questions about an upcoming North Carolina election? Unsure of whether or not you'll need to register or present a photo ID? Learn about the law and get facts so you're prepared to vote on election day. Keep reading to get info on voting eligibility, photo ID rules for election day, and more.
Am I eligible to vote in North Carolina?
Eligibility requirements to vote in North Carolina are as follows:
You must be a U.S. citizen and at least 18 years old.
You must be registered to vote and live in the county that you're registered to vote in for at least 30 days.
You cannot be serving a sentence for a felony conviction, which includes probation and parole.
If you previously served a sentence for a felony conviction and your rights have been restored, you can vote in North Carolina.
How to Register in North Carolina
You can register to vote in North Carolina as early as age 16, but cannot vote until you turn 18 (and meet the qualifications listed above). Simply complete a voter registration form using your full name and address. After you complete the form, you need to print it and sign it with an ink pen. Once you've signed, mail it to the County Board of Elections. Note: Electronic signatures are not accepted for voter registration in North Carolina. You must sign with a pen.
North Carolina Voting Resources
Your vote counts. Take the time to learn how and when to vote.

Protect Your Voting Rights
Contact a qualified attorney if you suspect your rights have been violated.