Can Injured Players Sue Coaches for Bad Coaching?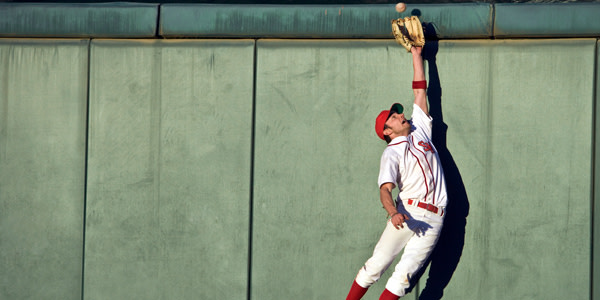 When a coach tells you what to do during a game, you tend to do it. Especially when you're rounding second on a ball lined into the outfield and your third base coach tells you to slide. But when that slide turns into a rolled ankle and permanent injury, is the coach to blame?
A former JV baseball player is suing his coach for exactly that, claiming the game in which he was injured was "negligently" and "carelessly" supervised. His lawsuit was originally tossed out for failing to plead "recklessness," but has been revived on appeal.
Fly Ball
It sounds like a fairly routine play. Jake Mezar, who graduated from New Jersey's Bound Brook High School in 2015, claims he hit a ball to deep left-centerfield during a 6-0 game during his freshman year. According to his lawsuit, coach John Suk expected a "bang-bang" play at third base, and told Mezar to slide. When Mezar did, however, his cleat "dug into the dirt and the force of the slide caused him to roll over his right ankle." The suit claims Mezar needed surgery to repair the ankle.
What is unclear, at least from news reports regarding the lawsuit, is whether Suk's instruction to slide was a good one. Was the play really going to be close at third, or could Mezar have safely run to the base without sliding?
Extra Innings
And what sounds like a fairly routine lawsuit isn't quite that. Mezar sued Suk and the Bound Brook Board of Education, claiming they "negligently" and "carelessly" supervised the game. The only problem with that, according to the court in which it was filed, was that sports involve inherent and "routine rough-and-tumble" risks, and therefore lawsuits involving athletics in New Jersey must pass a higher standard of recklessness. Ruling that "recklessness was the applicable standard under the factual circumstances, and plaintiff failed to plead recklessness," the court dismissed Mezar's suit in 2017.
But the Appellate Division of the Superior Court of New Jersey overturned that decision last week, stating that "the judge never analyzed whether plaintiff presented facts in support of his claim that defendants' conduct was reckless." The "defendants were on notice and fairly apprised of plaintiff's allegation that their conduct was reckless," according to the appeals court, "and dismissal of the complaint for failure to plead recklessness was mistaken."
So the player's lawsuit lives, but whether the coach will be liable for his injuries remains up in the air.
Related Resources:
You Don't Have To Solve This on Your Own – Get a Lawyer's Help
Meeting with a lawyer can help you understand your options and how to best protect your rights. Visit our attorney directory to find a lawyer near you who can help.
Or contact an attorney near you: