Creative Ways to Accept Cryptocurrency Payments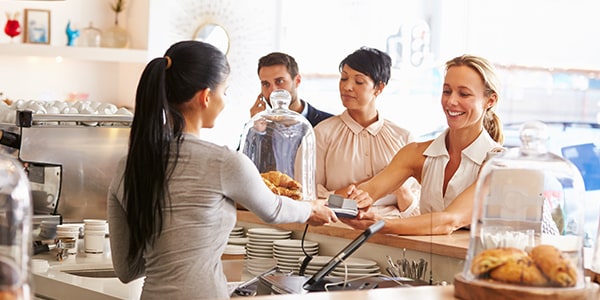 Most small businesses gave up on accepting only cash a couple decades ago. And in another couple decades we may look back and think of dollars, cents, and even credit and debit cards as antiquated payment methods.
At this point, it's not a matter of determining whether your small business will accept cryptocurrencies, but deciding when, which ones, and how you will creatively fold them into your existing payment structures. Here's a quick primer on cryptocurrencies, and how blockchain, Bitcoin, and the rest can be a boon to your small business.
Crypto Intro
All currencies are mere placeholders, assigned value in order to act as a medium of exchange. Instead of giving a gas station attendant a chair you made to pay for your fill up, you sell the chair for some amount of money and use money to buy the gas. Cryptocurrencies are digital mediums of exchange, backed by some level of cryptography to keep transactions secure. Bitcoin was the first decentralized cryptocurrency, utilizing blockchain technology to create an open, distributed, and accurate ledger of transactions.
Because Bitcoin and other cryptocurrencies aren't backed by any government, their value is liable to fluctuate, providing a challenge to product and service providers trying to value their work. There are, however, quite a few advantages of accepting cryptocurrencies.
Crypto or No?
If you read the first sentence of this post and thought, "Actually, a ton of businesses are moving back to cash only," you'd be right in a sense. But those business owners aren't luddites, afraid of scary technology; they're just tired of paying exorbitant fees to banks to process credit and debit card payments. Cryptocurrencies can eliminate those fees, meaning small business owners aren't stuck with the Hobson's choice of either eating those fees themselves, or passing them on to the customer in the form of higher prices.
And even if you're not dealing in dark web-type products, there are some industries *cough* marijuana *coughcough* that are either unable to access the federal banking system or would otherwise like to provide themselves and their customers with a little more anonymity. Decentralized cryptocurrencies can give small business owners another, sometimes necessary, payment mechanism while offering increased security and limited visibility.
Creative Crypto
Along with a variety of cryptocurrencies from which to choose, there are multiple platforms, exchanges, and "smart wallets" small businesses can utilize to accept cryptocurrencies. Direct Bitcoin payments are great, but platforms like Javvy, Divi Project, and Circle can give you secure and convenient was to handle cryptocurrency payments. There are also more old-school bitcoin exchanges like SpectroCoin, which give customers hard copy debit cards to use at brick-and-mortar locations.
Folding these cryptocurrencies into your payment schemes and advertising around them are great ways to attract more customers, along with being vital ways to value work and productivity. Displaying all of your prices in Bitcoin or some other cryptocurrency every so often, or providing discounts to customers purchasing with cryptocurrencies can be fun, along with giving customers an option to pay by app, even IRL.
Related Resources:
You Don't Have To Solve This on Your Own – Get a Lawyer's Help
Meeting with a lawyer can help you understand your options and how to best protect your rights. Visit our attorney directory to find a lawyer near you who can help.
Or contact an attorney near you: