Voting in Maryland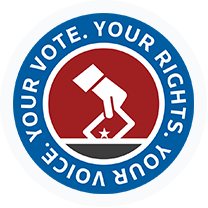 Maryland Voting Guide
Find answers to your questions about voting in the next Maryland election in FindLaw's Maryland Voting Guide. On this page. you will find information about voter eligibility, voter registration and deadlines, early and absentee voting, what you need at the polls in terms of identification, and special accommodations for voters with disabilities.
Am I eligible to vote in Maryland?
To be eligible to vote in Maryland, you must be a U.S. citizen, at least 18 years of age on Election Day, and a resident of Maryland.
You CAN register and vote if you are under guardianship (as may be the case for mental illness or developmental disability) as long as no court has determined that you cannot vote.
You CANNOT register and vote if you are currently incarcerated for a felony offense or you have been found guilty of buying or selling votes.
How to Register in Maryland
There are several ways to register to vote in Maryland. This includes registering:
In Person
Forms can be found at your local Board of Elections, the State Board of Elections, the Department of Health, the Department of Social Services, colleges, armed forces recruitment offices, and marriage license offices.
Online
You can use the Voter Registration and Absentee Ballot Request at the Board of Elections website. You will need to provide a Maryland ID number or a driver's license number. If you do not have one of these IDs, complete the mail-in registration form.
At the DMV
You can pick up a voter registration form at most Motor Vehicle Administration offices such as the DMV. You will need an ID or a driver's license number to be able to get your form. If you do not have this, you will need to complete a mail-in form.
By Mail
Download and complete the Voter Registration application and then mail it to your local board of elections or the State Board of Elections, P.O. Box 6486, Annapolis, MD 21401-0486. When you appear at the polls, you will be asked for identification.
Maryland Voting Resources
Your vote counts. Take the time to learn how and when to vote.

Protect Your Voting Rights
Contact a qualified attorney if you suspect your rights have been violated.